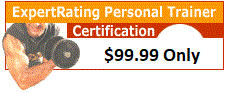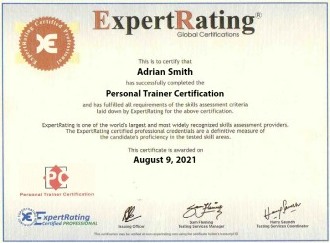 Why choose the ExpertRating Personal Trainer Certification?

ExpertRating is a trusted name in online testing and certification with over 200,000 certified professionals in over 40 countries in more than 100 skills areas. ExpertRating offers its testing services to the world's best companies such as Convergys Corp, Deltek Corp, IKEA Systems and Ericsson to name a few.

When you choose an ExpertRating certification you can be sure that you are buying a premium International certification that is recognized by hundreds of employers and Government bodies in the US and other countries. (note : there is currently no governing body on personal trainer certifications in the U.S.)

With ExpertRating you get certified quickly online and you are equipped with a store house of information through the indepth courseware.

The ExpertRating Personal Trainer Certification is by far the best value for money Personal Trainer Certification at $69.99.


Buy the Certification - $69.99
Personal Trainer resources

Why become a personal trainer
What people are best suited to become a Personal trainer
Ethical responsibilities of a personal trainer
Personal trainer certification
Expertrating Personal Trainer Certification
Personal trainer career prospects
personal trainer salary
Steps to becoming a personal trainer
Personal trainer job profile
Personal trainer insurance
personal trainer software
personal trainer web site promotion
Online personal trainer certification
Personal trainer business development
Personal trainer web site
Find a personal trainer
Personal trainer business
Personal trainer legal concern